26th IFIP WG 6.1 International Conference on Formal Methods for Networked and Distributed Systems
Special focus on verified middleware and distributed services
Home
Welcome
The 26rd FORTE conference will take place in Paris in the buildings of the CNAM (Conservatoire National des Arts et Métiers - www.cnam.fr) localized in the center of Paris. It is organized by the multi research laboratories group MeFoSyLoMa.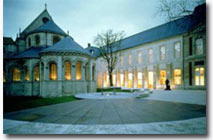 The focus of FORTE'06 is on the construction of middleware and services using formalized and verified approaches. In addition to the classical proctocol specification, verification and testing problems, Forte'06 will address the issues of composition of protocol functions and of algorithms for distributed systems. Contributions on the issues of composing and orchestrating services are also encouraged.
The conference will consist of tutorial sessions on the first day (Tuesday September 26th), followed by presentations of reviewed and invited papers, tool demonstrations, and panel and working sessions (Wednesday 27, Thursday 28 and Friday 29).
The proceedings will be published by Springer-Verlag in the Lecture Notes in Computer Science series.